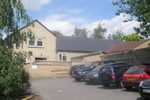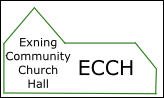 Exning Community Church Hall
This page will be used to advertise future
"Tea and Entertainment " events in ECCH.
For photos of a previous event see October 16, 2012 April 8, 2016
Not a Tea but a Dinner
Saturday June 24th
Exning Community Church Hall
70's Dinner & Evening Of Entertainment.
An evening of music and entertainment; 7pm for 7.30pm.
Music by GreenBeats; (I think I heard that isn't the case)
Quiz; Raffle; Other Entertainment.
70's dress optional !!
Tickets available from office@exningparishchurch.net or 01638 577461:
£10 adults, £5 under 16 years; to include a glass of wine or soft drink.
70's menu choices available at time of booking.
Organiser: CAROLYN NILSEN