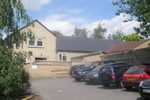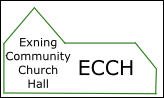 Exning Community Church Hall
EXNING PRESENTS
A Murder Mystery, on Saturday January 19 th
at Exning Community Church Hall.
"Let Us Prey"
The setting is a choir practice in church and the mystery
to solve is the non-appearance of the choir master.
If you enjoy a play and the challenge of solving a crime in the company of friends while enjoying a meal, then do come and join in.
Tables of six or eight are encouraged,
so please invite your friends for a sociable evening.
(or you can be linked to share a table on the night)
Menu
Cottage pie or
Lamb Orzo (pasta) or
Vegetable Squash and Bean chilli (with salad and bread)
* * *
plus a selection of Desserts.
* * *
Wine and soft Drinks available.
Tickets at £10 each available from
JAN LOVEGROVE 01638 577292 and JENNY KING 01638 578344
Doors open at 7.0pm for 7.30pm start
Event in support of ECCH.